Devon landowner denies 'explosion' threat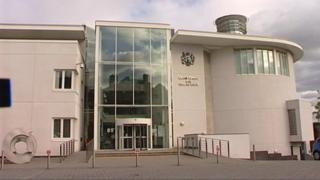 A woman has denied threatening to blow up contractors and council officers who arrived to clear buildings on her land.
Exeter Crown Court heard Linda Elt parked her van across the gateway of the site in Devon and threw a lit object towards fuel poured on the ground, but it failed to ignite.
Ms Elt, 65, denies affray and threatening to cause criminal damage with intent to endanger life.
She said her actions were a "token gesture" driven by desperation.
'Left homeless'
The court heard, she had earlier sent a letter and email to Mid Devon District Council making a threat.
She said she had been left homeless and was living in the back of her van with her dogs.
Council contractors were sent to remove a caravan and temporary buildings from land near Chawleigh which she had inherited from her late husband. Their action followed a long-running planning dispute.
She told the court she was making arrangements for the land to be cleared when she learned the contractors and officials were on site.
Ms Elt said she went back to her land to try to stop the contractors but "did not intend to set light to anything".
She said: "I had my dogs in my van and I was not going to set light to it.
"It was just a token gesture. I did not intend to endanger anyone. I never hurt anyone."
The trial continues.