Devon landowner 'threatened to blow up officers'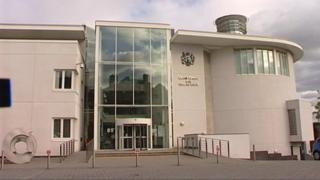 A landowner armed with a can of diesel and a lighter threatened to blow up council officers, a court has heard.
Linda Elt was trying to stop contractors removing unauthorised buildings in Devon following a 20-year dispute, Exeter Crown Court heard.
She threw a lit object towards fuel on the ground but it did not ignite, the jury was told.
Ms Elt, 65, denies affray and threatening to cause criminal damage with intent to endanger life.
'Not joking'
The land - between Chawleigh and Chulmleigh in Devon - was the subject of a series of planning disputes starting when she moved on to the site in 1993 and ending in December when Mid Devon District Council decided to use what it called "direct action".
The court heard Ms Elt parked her van across the gateway and allegedly threatened council officers and their contractors when they arrived.
Mr Nigel Wraith, prosecuting, said: "She started making threats and told them if they did not go away she would blow the whole lot up and had petrol in the van."
He said the council officers backed off and called the police.
"A short time later she emerged and started to pour liquid from a fuel can on to the ground," Mr Wraith continued.
"She came out again with a piece of white plastic or paper which was alight.
"She warned them she was not joking and threw the paper towards the liquid, although fortunately the wind took it and it blew away."
'No intention'
He said police seized Ms Elt and found a second lighter in an inside pocket.
Ms Elt, of no fixed address who lives with three dogs in the van, said she had no intention of harming anyone and did not make any threats.
She told police she had only threatened herself and her property and had no intention of setting fire to the fuel because it may have harmed her dogs.
The trial continues.