River Dart Country Park reopens after norovirus outbreak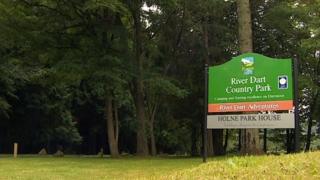 A country park that was temporarily closed after dozens of people fell ill with suspected norovirus has reopened.
Staff have been working since last Wednesday on a deep clean at The River Dart Country Park near Ashburton.
Managers at the country park said more than 90 cases of sickness had been reported.
The firm thanks customers for their "understanding and cooperation" during the closure which saw some 700 people leave the park for cleaning.
Mark Simpson, managing director, said the decision to close was made after discussions with Public Health England.
Emma Reynolds, who was on holiday when her daughter Mimi was struck down with the bug, said: "It started with a sore throat and then being violently sick.
"She was tired and rested and was then waking up and being sick again."
Pete Smith from Public Health England, said the thorough clean up should clear the site of the bug.
Mr Simpson said people still on site would get a "full refund for the cost of their pitch" and a complementary night stay later in the season or next year.
He added: "It's been a trial but the staff have been amazing. We have cleaned every building, not just the amenities.
"It has had an impact on the business. But the most important thing was to get the site clean and look after our customers."