Bikers rev up for Plymouth's 20th Mega Ride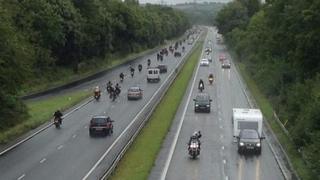 About 2,000 bikers have taken part in an annual charity motorcycle ride in Devon.
The 20th Mega Ride stretched about 30 miles (48km) from Lee Mill - outside Plymouth - to Marley Head, finishing on Plymouth Hoe.
The money will be split between the local branches of two charities, including Made to Measure - part of Scope - and Diabetes U.
About £4,000 was raised by those taking part in the ride in 2013.
Hundreds of well-wishers lined parts of the route to cheer on the riders.
Those taking part donated £3 at the start of the event.
The ride began in 1995 with about 400 bikers and has now become one of the biggest charity bike rides in the UK, organiser Richard Bounds said.