Blitz Fireworks win national championship in Plymouth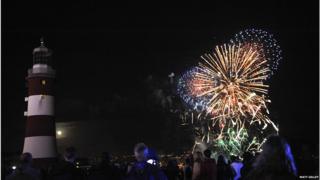 A national firework competition has been won by a pyrotechnic company from Cheshire.
Blitz Fireworks, from Crewe, competed against five other firms to be crowned the winner of the British Firework Championships.
The companies compete over two days by putting on displays over Plymouth Sound in Devon.
Thousand of people watched the event from Plymouth Hoe, Sutton Harbour and the city's waterfront.
Organiser Kevin Minton said judges assessed the variety of fireworks used, the rhythm at which they were fired, the show's originality and the reaction of the crowd.
The event has been held in the city since 1997.