British Firework Championships held in Plymouth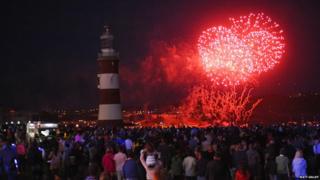 Thousands of people have watched the first night of the British Firework Championships in Plymouth.
Six pyrotechnic companies are competing over two days by putting on displays over Plymouth Sound.
Three teams competed on Tuesday night and three will follow on Wednesday.
Organiser Kevin Minton said judges assessed the variety of fireworks used, the rhythm at which they were fired, the show's originality and the reaction of the crowd.
The event is in its 18th year and features displays by Shellscape, Blitz Fireworks, Northern Lights Fireworks, PYRO 1, Reaction Fireworks and MLE Pyrotechnics.