Norovirus outbreak closes River Dart Country Park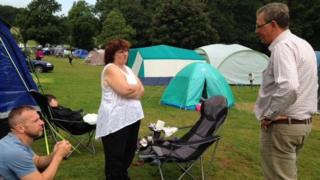 A country park has been temporarily closed after dozens of people fell ill with suspected norovirus.
The River Dart Country Park, in Ashburton, Devon, said that since Friday 91 cases of sickness had been reported.
On its website it said the park would be closed until 18 August to "enable further investigations".
It added that about 600 people are leaving the site and apologised for the disruption caused.
Mark Simpson, managing director, said the decision to close was made after discussions with Public Health England.
On its Facebook site, Emily Rudd said: "We camped last week and this bug wiped my two little girls, myself and my husband out!
"Our tent and bedding was ruined from all the sickness and in the end we cut our holiday short and came home. We are also hoping for compensation.
"Disappointing as we have visited before and had a great holiday and wish to do so again in the future. We hope those affected are reimbursed and the river dart team can rectify the problem quickly."
Jason Grout posted: "When are the people not on social media going to be informed? And are you going to refund your customers who were booked in for this weekend??"
Andrea Lamberti said: "Just had a knock on my van from the RDCP team with news of the site closure and to vacate in the morning.
"It's sad news but understandable. It's still a great place for kids and we will be back!!"
Mr Simpson said people still on site would get a "full refund for the cost of their pitch" and a complementary night stay later in the season or next year.
"People who have already left, we are dealing with on an individual basis," he said.
On the park's website he said: "Our primary concern is naturally for the welfare of our visitors and we have not taken this very difficult decision without serious consideration.
"I fully appreciate that this will cause unforeseen disruption to many holiday and day visitor plans for which I can only apologise."