Plymouth University board 'united' over CEO suspension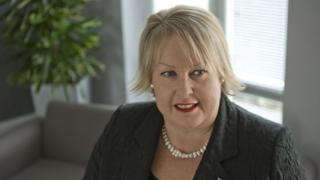 Plymouth University's board of governors has said it is "united" behind a review process which led to the chief executive being suspended.
The board issued a statement following newspaper reports of disagreement over last month's decision.
No reason has been given for the suspension of Prof Wendy Purcell, who is also the university's vice chancellor.
The Higher Education Funding Council has called for an external review.
In the statement, published on Monday, the board said it welcomed the regulator's call for an independent review of governance arrangements.
The board also said the call for a review pre-dated the vice-chancellor's suspension.
'Distorted view'
In Prof Purcell's absence, the university is being led by deputy vice-chancellor, Prof David Coslett.
He said: "While we appreciate that current matters are of interest locally and in the sector, we are aware of some anonymous sources seeking to present a distorted view of actual events, which is why we are now directly clarifying matters.
"The university is continuing with its business as usual and is committed to resolving the current situation as swiftly and transparently as possible."
Prof Purcell, who earned more than £288,000 in 2013, was a graduate of Plymouth University in 1985 with a degree in biological science.
BBC News has been unable to contact her.
The university said it could not reveal the reason Prof Purcell was suspended.
It said: "This information is subject to the ongoing confidential process led by the Board of Governors and therefore the university is not in a position to offer comment."