Rugby referee David Rose wrongly claimed benefits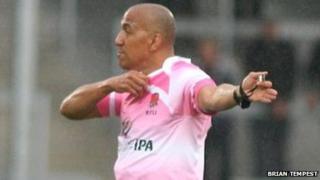 A Premiership rugby referee has admitted wrongly claiming hundreds of pounds in Jobseeker's Allowance.
David Rose, of Old Laira Road, Plymouth, claimed the benefit while working as a Premiership referee on four occasions.
Two charges of fraud were dropped but he admitted a charge of giving false information for obtaining benefits.
Rose was handed a 12-month conditional discharge and ordered to pay £700 in costs at Plymouth Crown Court.
The court heard how the referee, who has officiated over 100 Premiership matches, started claiming the benefit in February 2013 after losing his full time job as head of development for women's rugby with the Rugby Football Union.
In total he received £712 in Jobseeker's Allowance in February and March last year. He has now been suspended from refereeing.
'Genuine mistake'
Rose said he did not think his rugby work would prevent him getting the payments as it took up less than 16 hours per week.
But the court was told his earnings per game were well above the £71 per week maximum.
Sam Jones, defending Rose, told the court his client had made a "genuine mistake" and that the case had had a significant impact on Rose both personally and professionally.
Rose refereed matches involving Gloucester, Worcester, Harlequins and Exeter while in receipt of Jobseeker's Allowance.
He is one of eight referees to have taken charge of more than 100 Premiership games.
Judge Graham Cottle said: "It's puzzling why a man of such obvious intelligence did not know about declaring earnings.
"It is not easy to understand how you thought you were in some way not required to disclose the fact that you were earning money."
Rose, who stopped claiming Jobseeker's Allowance when he got a job, has already paid back the money. He was given six months to pay the costs.