Campaign for new Plymouth Hoe diving boards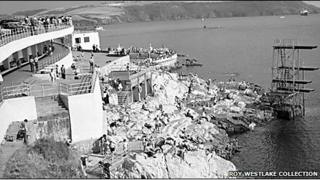 A campaign has started for a new diving platform on Plymouth's seafront, 11 years after the last one was closed.
City councillor Alison Casey, who has started a petition, said new boards on Plymouth Sound could stop people from diving off nearby cliffs (tombstoning).
The former 60ft (18m) Tinside platform on the Hoe was removed in 2010, after it became dangerous.
Ms Casey said Plymouth, where top divers such as Tom Daley come from, should have a diving platform.
Plymouth City Council decided to remove the diving platform after a teenage boy was badly injured when he fell in 2009.
Plymouth police has been given new dispersal powers to move on teens tombstoning - jumping off cliffs - on the city's waterfront.
Ms Casey, 44, an Independent who represents the Moor View ward, said: "It's more important now because we are seeing a lot of dangerous tombstoning.
"While we should be discouraging people from doing it, there needs to be something [instead].
"Diving is a big thing in Plymouth, with stars like Tom Daley and Tonia Couch.
"I say bring back the competitions - it's a natural amphitheatre on the Hoe so it's great for spectators."