Sir Ernest Shackleton's Antarctica mission launch re-enacted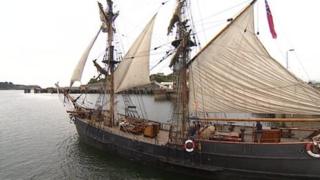 The start of a mission from Plymouth to Antarctica has been re-enacted 100 years on.
The original expedition, led by Sir Ernest Shackleton, hoped to make the first land crossing of the Antarctic continent.
It failed in that, but it is remembered as a feat of navigation and endurance when Sir Ernest rescued all 27 of his crew and brought them home.
The Shackleton 100 events also included the unveiling of two plaques.
Paul Davies, from the Devon and Cornwall Polar Society, said: "This event will be the first of a series of Shackleton 100 events over the next two years, culminating in a national service of thanksgiving in 2016 at Westminster Abbey.
"The story of their rescue under Shackleton's leadership is truly inspirational.
"Several of the men had strong links to Plymouth and it is right that the city is commemorating its part in this famous expedition."
After leaving Plymouth and sailing to the Atlantic early in 1915, Endurance became trapped in the Antarctic ice and sank 10 months later.
Shackleton's crew had already abandoned the ship to live on the floating ice.
In April 1916 they set off in three small boats, eventually reaching Elephant Island.
Taking five crew members, Shackleton then went to find help and the six men spent 16 days crossing 1,300km (810 miles) of ocean to reach South Georgia.
They trekked across the mountainous island of South Georgia to a whaling station to get help.
The remaining men from the Endurance were rescued in August 1916. There were no fatalities.
Sir Ernest's granddaughter, the Hon Alexandra Shackleton, unveiled two plaques in Plymouth to commemorate the occasion, the first at the Duke of Cornwall Hotel, and the second at Clyde Quay in Millbay, where the Endurance set sail 100 years ago.
The start of the voyage was commemorated by the tall ship, the Phoenix, which is visiting the city.
A replica of the open boat in which Sir Ernest embarked on his rescue mission was also in Plymouth.