Dawlish Town Council hands out over £10,000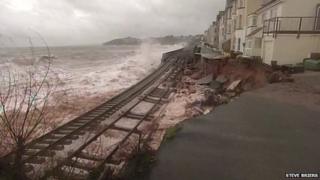 Dawlish Town Council has handed out over £10,000 in grants to get the town back in business after the rail collapse in February.
The track and part of the sea wall was badly damaged in storms, cutting off the service linking Cornwall and much of Devon with the rest of the UK.
Councillor Michael Clayson said the grants were to show that Dawlish was open for business after the storms.
The grants included £5,000 to the Dawlish Air Show.
The show is due to be held on Saturday 23 August.
A further £5,000 went to the Community Transport Association and £850 was given to the Shaftesbury Theatre.
Mr Clayson said: "There can be no better signal that Dawlish is open for business than our wonderful Air Show.
"Organised by a team of dedicated volunteers, it looks forward to welcoming an estimated 70,000 visitors to the town, proving that Dawlish is on the ascendant."