Inquiry shown care home "isolation rules"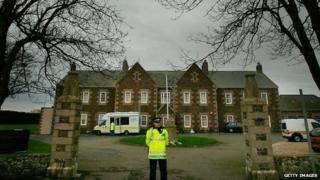 Children in Jersey's Haut de la Garenne care home could be locked in isolation for up to 48 hours, the Independent Jersey Care Inquiry has heard.
Tony le Sueur, current head of children's services, was appearing as an expert witness to outline the history of care in the island.
He showed the panel a list of rules governing the use of "secure rooms".
The rule sheet was not dated but would have been printed between 1960 and 1991, said Mr Le Sueur.
Children below primary school age were not to be locked up and the rooms were to be used "sparingly".
They were intended to isolate and settle "hostile" children and not as a means of school discipline.
Haut de la Garenne closed in 1986.
Well-meaning
The £6.5m inquiry is investigating the care system from the May 1945 liberation to the present day.
During his evidence on Wednesday, Mr Le Sueur explained how war-time occupation disrupted Jersey family life.
Many children had been evacuated to the UK and many fathers were killed in action.
By the 1950s, Jersey had proportionally twice as many children in care as the UK average.
The quality of 1950s record-keeping was highlighted when the panel was shown a sheet of A4 paper containing the entire known care record of a baby who spent four years in care.
Mr Le Sueur said six Family Group Homes, created in the 1960s, allowed children to live with a house mother and father.
They were a well-meaning attempt to modernise care, said Mr Le Sueur, but all are now closed, two of them because the carers were prosecuted.
The current system is a mix of small residential units, foster care and a young offenders institute.
Young people in care with extreme mental health needs are dealt with in the UK.