Combustion warning after hay bales catch fire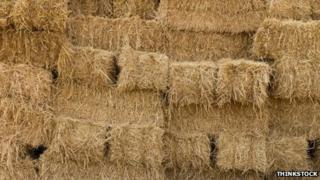 A safety warning has been issued to farmers about spontaneous combustion of hay after a fire swept through a barn storing 700 bales.
The town of Holsworthy, Devon, was put on asbestos alert and ordered to keep windows shut after the fire broke out at Ratherton Farm on Tuesday morning.
It took six teams of firefighters all day to bring it under control.
Devon and Somerset Fire Service said fires were most likely when heat in wet hay reacted with dry hay.
The service said: "The heat and humidity from the wet hay reacts with the dry hay and the insulation provided by the stack can allow a fire to start."
It said most problems with spontaneous combustion started within the first two weeks of hay being stored, although combustion was still possible for a further six weeks.
Fire crews said farmers should not bale hay which was too wet or green, allow plenty of ventilation within any stack and regularly check the temperature of stacks just after storage.