Tarka the Otter writer's hut granted Grade II status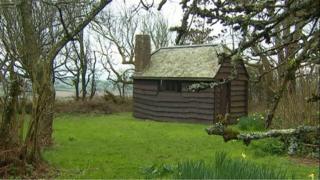 A hut used by Tarka the Otter author Henry Williamson has been granted Grade II listed status by English Heritage.
The hut in Georgeham, Devon, was sold for an undisclosed "extraordinary" price in May.
Tarka the Otter, published 87 years ago, brought the Devon countryside to life through the eyes of an otter.
English Heritage said the hut, which was used by Williamson while writing, had been listed because of its "historical interest".
The organisation said "Williamson's writing sanctuary" had remained almost unchanged since his death in 1988, apart from some repairs.
The hut, which is made out of elm, oak and slate, was built by the author in 1929 to 1930.