Horse-riding benefits fraudster Karen Trant jailed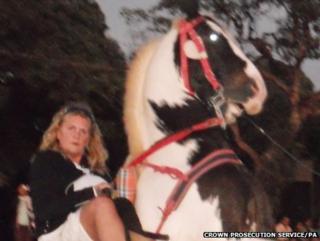 A benefits fraudster who claimed she could not walk outdoors in new places but was photographed riding rearing horses has been jailed for 27 months.
Karen Trant, 52, of Dartmouth, received £134,000 in benefits while taking exotic holidays and having plastic surgery, Plymouth Crown Court heard.
She claimed she was stressed by busy places but she holidayed in Goa, India, where she socialised in crowds.
Trant pleaded guilty to claiming benefits dishonestly over 13 years.
Foreign apartment
She had claimed she needed continual supervision and could not walk outdoors in new places, the court heard.
Money she falsely claimed included £32,000 in income support, £30,000 in disability living allowance and nearly £65,000 in housing and council tax benefit, between August 1999 and April 2013.
Claire Busby, from the Crown Prosecution Service, said Trant "failed to notify authorities of cash from her divorce settlement in 1999, that she frequently holidayed in Goa; and that, in 2004, she had bought an apartment there".
She added: "The Karen Trant seen confidently riding a horse in the photographs seems a world away from the highly dependent and anxiety-ridden individual she purported to be to justify her welfare benefits claims."