Naval dockyard protesters charged over road blocking stunt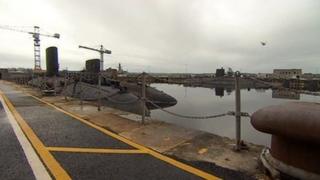 Two protesters have been charged with obstructing a road after a car was parked across the main entrance to the Devonport naval base .
Members of the Tamarians, an anti-nuclear group, parked the car across the main entrance at 06:00 BST and two members chained themselves to it.
Devon & Cornwall Police said a man and a woman from Somerset had been charged with wilful obstruction of the highway.
The group was protesting against the refitting of Vanguard-class submarines.
Devonport is the repair and refuelling base for the Royal Navy's fleet of nuclear missile submarines.
It is also base for the navy's nuclear-powered hunter-killer Trafalgar-class submarines.
The protest caused heavy congestion in nearby roads.
The pair were released on police bail and are due to appear before city magistrates in August, police said.