Investigation into fire at Woodbury car breaker's yard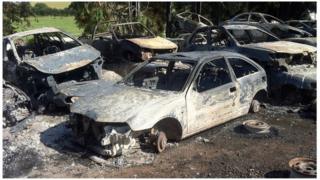 Fire investigators are sifting through the remains of a blaze-hit car breakers yard near Exeter.
The blaze, described by police as a "major incident", started in the yard in Woodbury at about 14:30 BST on Sunday.
At least 10 fire crews were called to the scene. Plumes of black smoke were seen from several miles away.
About 30 homes next to the yard were evacuated as temperatures hit 1,000C, melting wheels and window frames.
"It was a very serious and significant fire," said Nigel Deasy, of Devon and Somerset Fire Service.
The yard owners have declined to comment.