Wreath blessing commemorates American D-Day troops in Teignbridge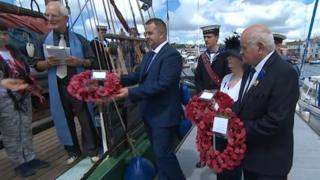 American service personnel who where stationed in south Devon before D-Day have been remembered in a ceremony.
More than 2,000 troops were billeted in the Teignbridge area in 1944, organisers said.
Towns they stayed in included Teignmouth, Shaldon and Newton Abbot.
A service was held aboard the Brixham trawler Provident in Teignmouth to bless four poppy wreaths which will be laid in the sea off Normandy.
The Provident set sail on Sunday afternoon to cross the English Channel to France, where the wreaths will be laid off the invaded beaches in memory of those who lost their lives.
The D-Day landings on 6 June 1944 were the first stage of Operation Overlord - the invasion of Nazi-occupied Europe - and were intended to bring World War 2 to an end.
It involved about 156,000 British, US and Canadian troops invading the coast of northern France on one day.
By the end of that day, the Allies had established a foothold in France. Within 11 months Nazi Germany was defeated.