Harry Martin: Boat named after photographer teenager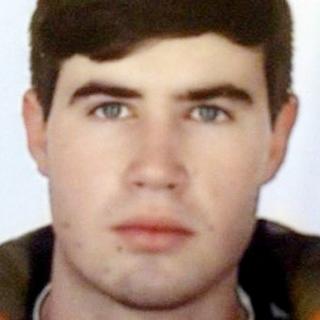 A boat has been named after a teenager who died taking pictures of the sea during January's storms.
Harry Martin, 18, from Devon, was last seen on 2 January before his body was found nine days later.
The community boat, named "Harry" and paid for local fundraising, was launched on Saturday and will be used in a local regatta.
Mr Martin was a keen rower in the annual regatta for Newton Ferrers and Noss Mayo, which takes place in August.
'Bittersweet time'
The locally-made vessel was launched and blessed by the local vicar, the Reverend Anne Legge, who said Mr Martin's family were "delighted" at the gesture.
She said: "Some donations after the funeral were given to regatta committee, which decided it should go towards a practice boat for the community.
"He was very prominent in last year's regatta, so it will be a bittersweet time.
"People will always remember Harry. They remember the good things about his life, and they remember the dreadful event with great sorrow."
Mr Martin, a film and TV student at Greenwich University in London, was visiting his family for Christmas in Membland, Newton Ferrers, when he went missing.
Extensive searches of a 20-mile (32km) stretch of coastline, 10 miles (16km) either side of his home were carried out over several days until his body was discovered in Carswell Cove.
An inquest in Plymouth heard he may have died as a result of "his sudden immersion in cold water". It recorded an open verdict.