Man 'targeted' in fish hook assault off Torquay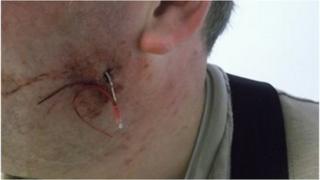 A man who was struck with a fishing hook which embedded into his cheek is thought to have been deliberately targeted, police have said.
Nathan Ould was fishing off Hope's Nose, Torquay, when he said he was attacked by a group of people casting fishing rods in his direction from the shore.
He was hit on the cheek and back of the neck.
It happened at about 06:30 BST on 13 July, Devon and Cornwall Police said.
Mr Ould, who was fishing for mackerel, said: "I had just started and was 200-300 yards off shore.
"I heard a thud from a weight hitting the boat and turned and then had a whack in my cheek.
"There's a lot of metal in a mackerel line. One hit my cheek and another barbed the back of my neck but I managed to get that out.
"It would have killed me if it had hit me in the middle of the head or I would have been blinded if it had hit me in the eye."
Mr Ould said there was a group of 20-30 people on the shore.
He returned to port and contacted the police and went to Torbay Hospital, where the barb was cut out from under his eye.