Council rows with Devon 'swan man' about feeding birds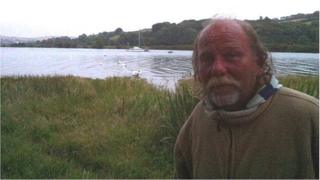 A row has broken out between a parish council and a man over the feeding of swans on a river.
Bigbury Parish Council, in Devon, says excessive feeding on the River Avon by Richard Crayfer, known as "the swan man", has made the birds aggressive.
The council said it had received "quite a few complaints" about the swans' behaviour and one woman had been thrown off her horse after being "spooked".
Mr Crayfer, 56, disputes the claim and says the swans "are not aggressive".
"We can't be sure it was the swans that spooked the horse," he said. "Everyone is entitled to their own opinion.
"But I disagree with the claim that aggressive swan behaviour is leading to hazards for road users."
The part-time fisherman said he gave the birds "supplementary food" and helped to watch over them.
He said he had no plans to stop.
However, the council has put up a sign saying "regular artificial feeding" can cause "unnatural and aggressive swan behaviour" and urged people not to feed the birds.
Chairman Stuart Watts said: "Sometimes there are up to 60 swans and if birds are fighting over limited resources they get aggressive."
He accepted that feeding swans was not illegal, but said "things have come to a head".
"People who live here love the estuary and its quiet solitude and if they are being attacked by swans then it spoils the environment," he said.
Susie Cullen said three swans flapped at her horse, which led to her being thrown off.
The horse was sedated and dragged out of the mud by emergency services, uninjured.
"The swans normally keep themselves to themselves," Ms Cullen said.
"But over the last few years their behaviour has changed due to excessive feeding."
Tony Whitehead, of the RSPB, said he had doubt the swans' behaviour was linked to over feeding.
"I could not make a link between the swans' aggression and this person who is feeding them," he said.
"With or without feeding, swans can be very aggressive at this time of year.
"It is no comfort to the poor lady who fell off her horse but it is not unusual for them to be aggressive when they are protecting their young."
Devon and Cornwall Police said: "Officers are logging reports of anyone feeding the swans along the Aveton Gifford tidal road, and any issues relating to this."