Stray dogs from Afghanistan help Plymouth servicemen deal with combat stress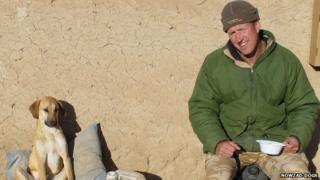 Stray dogs from Afghanistan have been brought back to the UK to help military personnel deal with combat stress.
The Nowzad Dogs charity, which rescues abandoned dogs in Afghanistan, is helping more than 600 servicemen overcome the trauma of serving in war.
The dogs are used for fighting in Afghanistan and can suffer horrendous brutality from their keepers.
Men from Plymouth's 42 Commando say they have found solace after befriending the dogs.
Royal Marine sergeant and founder of Nowzad Dogs, Pen Farthing, said: "When you're on the ground you're part of a bigger picture that you don't always get to see when you're in the thick of warfare.
"In the downtime looking after an innocent animal is a positive action and you can see how you're helping.
"It's very important for the men suffering with combat stress to have that companionship."