Storm-hit Teignmouth Pier reopens after repairs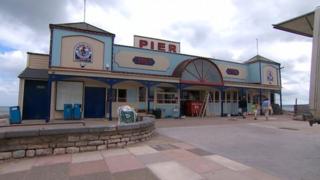 A pier that was badly damaged during winter storms has reopened after five months of repairs.
Hundreds of thousands of pounds have been spent on Teignmouth Pier, in Devon, after much of its floor was washed away in February.
Owner Nik Brenner said it was "hit very hard by enormous waves" and described the damage as "heartbreaking".
The pier, which is 212m (696ft) long, was designed by JW Wilson and built between 1865 and 1867.
Mr Brenner said: "I just didn't recognise the place. I have been here working since I was 12 years old. It was horrendous.
"There were some very dark moments."
He said the beams and decking had been replaced and he hoped the pier would withstand any future storms.