Cold War concrete bunker in Devon to be auctioned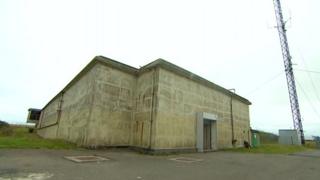 A 1950s concrete bunker, built in Devon during the Cold War, is to be auctioned with a £400,000 guide price.
The bunker in Kingsbridge was constructed in 1952, with metre-thick walls and more than 50 rooms.
It has two floors, one above ground and one below. The sale also includes a radio transmission mast.
Earlier this year an underground Cold War bunker was sold in Newquay, Cornwall, for £140,000, nearly three times its guide price.
The Kingsbridge bunker, which was decommissioned in the 1990s, was bought by two local farmers who have used it for events and storage.
Trevor Lethbridge, one of the owners, said: "We bought it on a whim. It was one of those buildings that was top secret to the area.
"The opportunity came up to view it. We came along and fell in love with the building."
It has mains electricity, a private water supply and its own generator.
Code-named Hope Cove R6, the control bunker is situated adjacent to the disused site of RAF Bolt Head.
In 1958, the bunker was transferred to the Home Office for conversion so that it could act as a control centre for the region in the event of a nuclear war.
Graham Barton, from Clive Emson Auctioneers, said: "This will interest somebody with a lot of money and a lot of secrets, and maybe with an eye to an alternative use. It's specialised but it's special."
The bunker will be auctioned at the St Mellion International Resort in South East Cornwall on 29 July.