Licence bid to keep Devon beavers in wild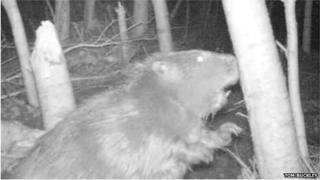 Wildlife campaigners are hoping to get official permission for a family of beavers to remain living wild in Devon, it has emerged.
Devon Wildlife Trust (DWT) admitted it has "to be pretty quick" after the government announced plans to move the three beavers from the River Otter.
The government said the beavers could be carrying disease.
Conservative MP Zac Goldsmith has backed a campaign with 7,400 supporters to keep the beavers.
A recent sighting of beavers, thought to be two adults and a juvenile, in the River Otter was said to have been the first of its kind for centuries.
Nobody knows where the beavers have come from.
The Department for Environment, Food & Rural Affairs (Defra) said they could be carrying a disease "not currently present in the UK".
Environment Minister George Eustice said the government was considering "the best way" of rehoming the animals.
DWT said it was working to get a licence from Natural England for the "non-native species" to remain on the river.
Conservation manager Peter Burgess told BBC News: "There is a big process we have to go through.
"They have to be disease free, they have to be managed and the community wants them to be there.
"So far the reaction has been overwhelmingly positive."
He said that it would be a "complex experiment" to monitor and manage the beavers, which are thought to be the only wild breeding group of beavers in England and Wales.
Defra said: "We intend to recapture and rehome these beavers and are currently working out plans for the best way to do so.
"All decisions will be made with the welfare of the beavers in mind."
No-one from Natural England was available for comment.
Beavers were hunted to extinction in England and Wales during the 12th Century.