Lynmouth tidal energy test site go-ahead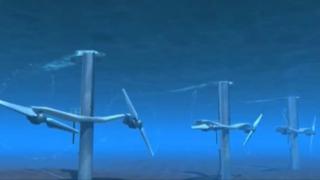 A testing zone for tidal power machines off the north Devon coast has been given the go-ahead.
The Crown Estate, which manages the UK seabed, has granted Wave Hub exclusive rights to develop a scheme off the coast at Lynmouth.
Wave Hub, which has a wave energy test site off Hayle in Cornwall, said it would start liaising with developers who want to test their devices.
The Crown Estate announced six new testing sites around the UK.
Permission for more devices has also been granted in Dorset.
Siemens has been given a lease to develop the site at Portland and will investigate whether the area is suitable for a commercial project that could produce enough power for 15,000 homes.
The electricity generators will operate like wind turbines but with blades driven by tidal wave action.
Councillor Julian Gurney of North Devon Council said the 35 sq km (13.5 sq mile) Lynmouth site "will put north Devon on the map for renewable marine energy".
Rob Hastings, director of energy and infrastructure at the Crown Estate said developing the technology "will be critical if the UK is to unlock its significant natural resources for wave and tidal current energy".