Devon villagers empty library over cuts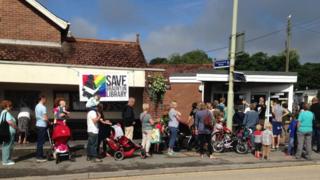 A village library's shelves have been left empty after campaigners borrowed hundreds of books in protest at proposed budget cuts.
Users of Braunton Library, in north Devon, fear it could close after the county council said savings had to be made.
In April, briefing papers showed Braunton was one of 28 which could be at risk of closure.
However, the council said there had "never been any intention to close it".
A council spokesman said it needed to find new ways to sustain library services.
Campaigner Ben Hewitt said he understood the need for cuts but wanted to make sure the council did not just "hand off the library to the community and forget about it".
The council spokesman said: "We do still need to find savings within the library service, and Braunton, as indeed all our libraries, will need to play their part."
The library service consultation ends on 17 July.