New Bishop of Exeter Robert Atwell installed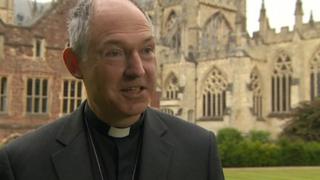 The Right Reverend Robert Atwell has been installed as the new Bishop of Exeter.
Bishop Atwell was part of a procession which travelled along the city's high street to the cathedral where he was installed.
After the service he went on to Cathedral Green and blessed the city and county.
Bishop Atwell is the 71st bishop, replacing the Right Reverend Michael Langrish who retired in 2013.
Before the service he said he was "nervous but hugely excited".
He was previously the Bishop of Stockport, in Greater Manchester.