Robert Ivey jailed for chasing girl, 10, in Sidmouth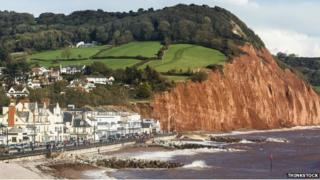 A sex offender has been jailed for 16 months for chasing a ten-year-old girl at a seaside resort and trying to lure her into bushes.
Robert Ivey, 30, was already subject to a court order preventing him approaching women or girls.
The victim was on a family day out in Sidmouth and was rescued by her 16-year-old sister who helped police track down Ivey to a nearby cemetery.
Judge Erik Salomonsen said Ivey posed a potential danger to the public.
At Exeter Crown Court on Friday, Ivey, of Trafalgar Terrace, Branscombe, admitted breaching his sexual offences prevention order (Sopo).
'Life-affirming gesture'
The court heard in February he was in Sid Park Road, Sidmouth, when he approached the girl, who was playing on the other side of the river from her family.
He asked her to "stand guard" while he urinated in bushes and asked her to go with him but she ran away, with him following for a short while.
The girl's older sister came to her rescue and the family called the police after seeing Ivey move away to the nearby cemetery.
Ivey claimed exposing himself was a "life affirming gesture" because the girl's reaction might have made him "re-evaluate his life".
He was made subject of a more stringent Sopo which bans him from all unsupervised contact with anyone under 18.
Judge Salomonsen said: "Your previous offence of exposure was against a mature woman. This was towards a ten-year-old girl. Who knows what would have happened if she had not run away.