Protesters gather in Exeter over plans to close almost 40 care homes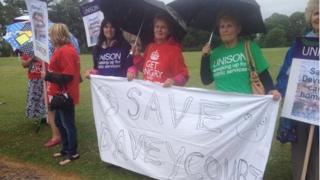 Protesters have joined opposition councillors to challenge Devon County Council's planned closure of almost 40 care homes and day centres.
Liberal Democrats raised objections to the decision during a scrutiny meeting in Exeter but they were rejected.
The party said it wanted more public debate on the proposed closures and to further examine evidence for the cuts.
The Conservative-controlled council says the homes and day care centres are too expensive to run.
The council is trying to cut its spending by a third to £400m a year by 2017.
'Wrong decision'
If the plans are approved, about 260 residents in the council-run homes face moving into private homes over the next 18 months to slash social care spending by £10.7m.
More than 750 jobs could be lost and another 250 jobs could go in council-run day centres as the authority closes 17 of them to save £1.7m a year.
Only two council-run residential care homes, with specialist dementia facilities, will remain open - in Newton Abbot and Torrington.
Members of the union Unison were among about 20 protesters outside the meeting at County Hall in Exeter.
Devon county branch secretary Steve Ryles said the council was making the "wrong decision".
He said: "They have run into it, they need to slow down and think again."
He said the council only examined the homes as "one block unit" and the authority needed to the look at the premises individually.
However, the council's People Scrutiny Committee, which reviews how the authority considers new policies, rejected the opposition member motions which means that the council's proposals currently still stand.
The authority previously said it would be "working very closely" with affected residents and their families.