RAF man death crash driver was 'not qualified'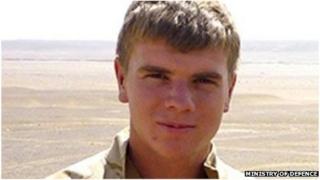 An RAF gunner in Afghanistan was run over by an armoured vehicle driven by a colleague who was not qualified to drive, an inquest heard.
Senior Aircraftman Kinikki Griffiths, 20, from Exmouth, Devon was killed when he was crushed by a Jackal vehicle in Helmand Province on 16 July 2010.
Exeter County Hall heard the corporal who was at the wheel at the time did not have a driving licence and should not have been driving.
The inquest continues.
The hearing was told SAC Griffiths and another colleague had gone under the six-and-a-half-tonne vehicle to check on a fluid leak.
'Take lead'
Corp William Wortley, who was driving, said he had put the handbrake on with the engine running, but "moments later" the vehicle started rolling forward.
One person escaped while SAC Griffiths was trapped.
Corp Wortley, who was in charge of the vehicle's machine gun, said he had driven Jackals before but he had no training.
He said he had taken over driving because his colleagues were tired and he "wanted to take the lead".
"I thought I was comfortable driving," he said.
SAC Griffiths had been in Afghanistan for 10 weeks was just days away from celebrating his 21st birthday when he was killed.
He joined the RAF as a gunner and was posted to No 1 Squadron Royal Air Force Regiment.