Storm-hit Dawlish Warren in £10m revamp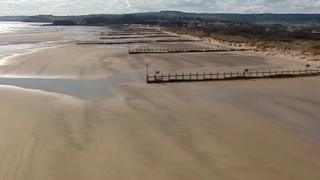 A £10m plan to reduce coastal erosion at a Devon resort has been announced.
The winter storms moved about 100,000 tonnes of sand and damaged sea defences at Dawlish Warren.
The work includes creating a new embankment on the warren, strengthening the seawall to protect buildings in Exmouth and moving about 25 million tonnes of sand back on to the beach.
The Environment Agency hopes to start the project in the autumn and complete it by 2017.
'Flooding risk'
Martin Davies, from the organisation, said: "Recent storms severely damaged the defences at Dawlish Warren. A series of groynes have collapsed and gabions [rock-filled baskets] destroyed."
Mr Davies said tonnes of sand had been moved offshore from the beach and the project aimed to return it to Dawlish Warren.
"If the warren wasn't here we'd have much bigger waves in the estuary and it would increase the risk of property flooding and damage to the railway line," he added.
Dawlish Warren is a sandy spit which extends into the mouth of the Exe Estuary.