Man from Scotland jailed for Exeter stabbing attack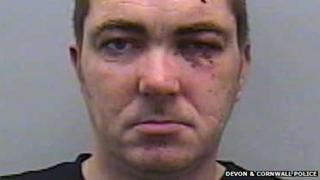 A man from Scotland has been jailed for a stabbing attack on a homeless man in Exeter.
William McGeough, 42, who was visiting his mother, boasted about connections with the Glasgow underworld before stabbing 38-year-old Stephen Donnelly.
In January, McGeough went drinking with Mr Donnelly after missing his bus to Glasgow and the pair got into a violent argument, Exeter Crown Court heard.
He was jailed for 15 years with a five-year extended sentence.
Stabbed 10 times
McGeough, of Grafton Place, Glasgow, was cleared of attempted murder but found guilty of causing grievous bodily harm with intent by a jury at Exeter Crown Court in May.
The court was told the two men were strangers but linked up after discovering they were both from Glasgow and Mr Donnelly arranged for McGeough to stay at a friend's house.
The violence started when Mr Donnelly borrowed McGeough's phone to call a taxi to take him back to his hostel.
He went outside to get a better signal and McGeough followed him, accused him of "mugging him off" and stabbed him 10 times before battering him about the head.
The victim suffered a punctured lung, a cut on his kidney and a stab wound that went through his cheek, the jury heard.
He also punched Mr Donnelly so violently he broke his jaw, cheek, eye socket and skull.
Sentencing him on Monday, Judge Mr Justice Burnett said to McGeough: "You walked away calmly and luckily others heard him calling for help and his life was saved, although he continues to suffer the consequences which have been life-changing."