Devon County Council pleads with government to reverse cuts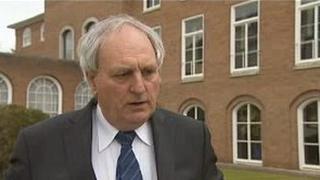 Devon's political leaders have sent a letter to the government to warn that further spending cuts will affect vulnerable people in the county.
The county council has been tasked to cut its budget from £600m in 2009 to £400m in 2017.
But, leaders said they were "very concerned" about the impact this could have and have asked the government to review the demand.
The government said every bit of the public sector has to "do its bit".
In the letter to communities and local government secretary Eric Pickles, Conservative council leader John Hart, Liberal Democrat opposition leader Alan Connett, Labour leader Richard Westlake and UKIP leader Robin Julian have voiced their concerns.
They said the authority has already saved £97m since 2010, cut 1,800 non-school posts and outsourced some services, in an effort to make savings.
'Secured good deal'
Further cuts will make it "probable" reductions to front-line services will be necessary, they warned.
"These will affect vulnerable sectors of Devon's population," they said in the letter.
"The council is very concerned about the impact of such reductions at a time when areas such as child and adult safeguarding, highway maintenance and youth services are high profile."
Brandon Lewis, local government minister, said: "Every bit of the public sector needs to do its bit to help pay off the deficit left by the last administration, including local government which accounts for a quarter of all public spending.
"There is immense scope for saving taxpayers' money such as through cutting fraud, better procurement, more joint working and reducing back office administration."
He said the government had "secured a good deal for councils" by providing funding to freeze council tax for two more years and £3.8bn for adult social care.
Mr Lewis added: "The overall reduction in local government spending will be just 2.3% in 2015-16 with Devon's estimated as 1.6%, so well below the national average."