Hilary Mantel leads Devon honours list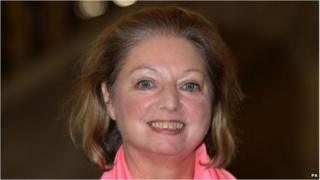 Author Hilary Mantel, who has been made a dame for services to literature, said she saw the honour as "encouragement for the future".
The Devon-based writer, who has written two novels about the life of Thomas Cromwell, is already a CBE.
Ms Mantel, 61, is among a number of people from the county honoured in the Queen's Birthday Honours list.
Shirley Fewings, who led volunteer support to those affected by winter storms at Dawlish, is appointed an MBE.
Ms Mantel, who lives in Budleigh Salterton, said: "I'm delighted to receive this honour. It's given for 'services to literature,' but I see it not so much as a reward for the past, more as encouragement for the future.
"It means a great deal to have my efforts recognised, especially as I feel I've come to a new phase in my creative life.
"I hope it will please the many people who have helped, guided and encouraged me over a writing career of some 30 years."
Mantel lived for almost a decade in Botswana and Saudi Arabia before returning to Britain in the 1980s.
Ms Fewings, manager of the Dawlish and East Teignbridge Volunteer Service, was made an MBE for voluntary and charitable services.
She said: "It hasn't sunk in yet, we're all on a bit of a high. It's such an honour. I have no idea who made the nomination. It just means an awful lot to us and it's just wonderful to be recognised.
"I think I'm accepting it on behalf of Dawlish really, the whole community came together. I could not have achieved what I achieved on my own."