Caterer fury at Torbay Council coin flip rejection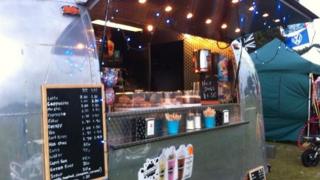 A mobile coffee bar owner is furious after her application to trade was rejected on the flip of a coin.
Claire Hall 73, wanted to set up in Cary Park, Babbacombe, but Torbay Council's place policy group was split.
So chairman councillor David Thomas tossed a coin which came down against the application. He said it had been his "only option".
Ms Hall said: "It is so unfair. I feel let down for the people that need and want the facility."
She wanted to bring her Atomic Cafe caravan, selling drinks and snacks, to Cary Park and gathered a petition with nearly 400 signatures supporting her.
She said: "I just feel that even though the toss of a coin is legal it is still ridiculous - it is like they are playing a game.
"They may as well get a Monopoly board out.
"They are not listening to what people want."
Mr Thomas said he had been unable to vote because he had an interest in the issue, as the owner of his own catering company.
So that left the four remaining councillors, who were split, with two in favour and two against.
He said: "If there had been any other way of moving the meeting on I would have done so.
"The same method is used in general elections if there is a tie and by the Police Federation, so if it's good enough for them it's good enough for a lowly Torbay councillor.
"If I had voted it would have opened myself up to huge issues."
The final decision will now go to mayor Gordon Oliver.