Derriford Hospital apologises for backlog on CT scans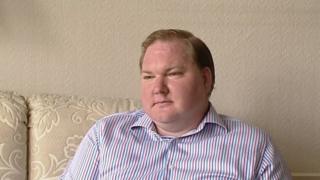 One in six patients currently on the waiting list for a CT scan at a Devon hospital have gone over the required waiting time.
A cancer patient from Plymouth faced a three-month wait for a vital CT scan due to an appointment backlog at Derriford Hospital.
Daniel Pearce had two operations to remove tumours and should have a CT scan every six months.
Plymouth Hospitals NHS Trust apologised for any distress the wait is causing.
'Extremely frustrating'
Mr Pearce was due to have a scan in June, but due to an increasing backlog he was told he may have to wait until September.
Mr Pearce said: "There isn't an excuse for this...We need to know when I'm going to get that scan and when everyone else is going to get theirs.
"My wife and I have got a baby on the way so it would be nice to know exactly where I stand and where things are."
Plymouth Hospitals NHS Trust has 2,534 patients waiting for a computerised tomography (CT) scan and 404 have gone over the required waiting time of six weeks.
The trust for the hospital, which covers Devon and Cornwall, said the delay was due to a number of factors including the recent replacement of a scanner, vacancies within the department and a rise in demand for scans.
Kevin Baber, chief operating officer for Plymouth Hospitals NHS Trust, said: "At present our waiting times for patients needing a CT scan is longer than we would like it to be and some of our patients are waiting longer than they should be.
"We appreciate this is hard for them and want to apologise for any distress and anxiety this maybe causing.
"We are doing everything we can to reduce the waiting times and to see as many patients as we can."
He said the hospital planned to recruit more staff within the department.