Storm-hit Dawlish rail line: Brunel sea wall row starts again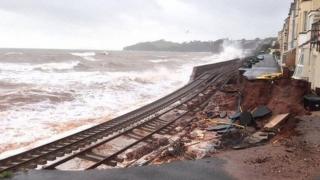 Plans to raise a sea wall in a Devon town, which was breached in winter storms, have been criticised by some residents worried about their privacy.
Network Rail wants to increase the height of the wall in Dawlish to protect the main railway line which was destroyed by storms in February.
A walkway on top of the wall is used by thousands of people every year.
The company said it was confident it could find a solution "which works for almost everyone".
'Standing and gawping'
In the 1840s, Isambard Kingdom Brunel, who created the rail line, lost the same battle with a landowner.
The landowner insisted the wall should be lowered so he did not lose his privacy, with walkers looking in.
Ann Large, who lives in Sea Lawn Terrace which sits on the site of the old house, said: "The world and his wife will be standing and gawping at the properties [if the wall is raised]."
Another resident said: "It's going to have an impact on our privacy and security and I'm sure there are other ways of improving the integrity of the seawall."
But some have voiced their support for the Network Rail option.
Peter Large, said: "I would be much happier if the footpath is raised so it does give us that extra strength and resilience.
"I don't want to go through another 'Black Tuesday' storms like we did this year.
A spokesman from Network Rail said: "Having successfully completed the repairs to the line, we now need to bolster the defences of the seawall, and raising the seawall walk is the best way to do that.
"We are aware that this means some changes for residents of local houses, which is why we have explained our plans and asked for feedback."