Appledore Shipyard wins third Irish Navy contract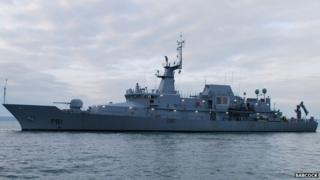 A Devon shipyard has won a contract to build a third patrol vessel for the Irish Navy.
Appledore Shipyard handed over a 50m euros (£41m) ship to the service in April and is currently working on another vessel ordered in 2010.
The yard in north Devon employs more than 300 people.
Babcock, the company which owns the yard, said keeping to budget and time deadlines with previous orders had helped to secure the third contract.
Since 2002, the shipyard has built only parts of vessels, which have been floated away for other yards to complete.
The shipyard was founded in 1855, but went into administration in 2003.
The yard was then bought by engineering contractors Babcock.