Sheriff title up for grabs in Moretonhampstead raffle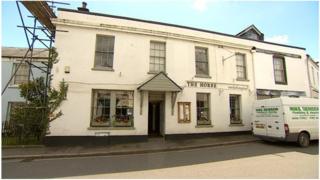 The title of Sheriff of Moretonhampstead is up for grabs in the Devon town's raffle.
The winner will get the right to parade their cats in the square on Sundays and get a free sausage roll and pint at local pub The Horse once a month.
Another right is to wear denim on denim.
The aim of the £1-a-ticket raffle on 20 June is to to promote the play Jerusalem that is coming to the town and support the local arts centre.
'It's fun'
Organiser Mischa Eligiloff said: "We had all the traditional raffle prizes, pizza in the pub, bottles of wine, but we wanted something to stand out.
"So we created the role of sheriff of the town.
"We hope the rights make the prize worth winning."
He added: "The play has a central character called Rooster who would have loved to have won a sheriff's prize.
"So there is a link, it is playful and it's fun and it's in keeping with the spirit of the play."