Ex-Devon and Cornwall Police officer David Salsbury sentenced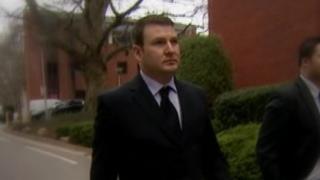 An ex-police officer has been sent on a sex offenders' course after he exposed himself to a woman colleague in his own police station.
David Salsbury, 40, of Stoneycombe, Kingskerswell, blamed the stress of his job after he went on to flash at two women shop assistants.
Salsbury resigned from the Devon and Cornwall force after admitting three counts of exposure.
Judge Jeremy Griggs said Salsbury failed to uphold certain standards.
The court heard how Salsbury was on duty and in uniform when he flashed at a woman police community support officer (PCSO) inside Brixham Police Station almost two years ago.
'Too embarrassed'
He was being investigated for that offence when he went into shops in Newton Abbot wearing non police issue motorcycle leathers and did the same thing.
He was later found with 96 photographs, some of himself exposing his genitals while wearing his uniform, the court heard.
Peter Coombe, prosecuting, said the female PCSO "was too embarrassed to say anything about what was going on".
Judge Griggs said: "You were a serving police officer and a person who members of the community looked up to and respected. You were expected to uphold certain standards.
"You abused those standards and fell well below the conduct expected of a police officer, or indeed of anyone for that matter."
David Sapiecha, defending, said: "[Salsbury] has lost virtually everything he holds dear; his career, his marriage and contact with his children. He has no real income and is living with his parents."
Salsbury was ordered to attend a sex offenders' course as part of a two-year supervision order and he was put on the sex offenders' register for five years.