Devon County Show stallholders offered 25% cancellation refund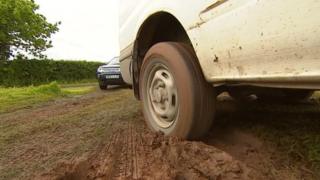 Stallholders at the cancelled 2014 Devon County Show are being offered a 25% refund on fees as a gesture of goodwill by organisers.
The last day of the three-day event was cancelled after heavy rain caused vehicles to become stuck in mud, raising safety concerns.
Letters are being sent out to traders who can apply for the refund.
Traders could also donate it "in support of its [the show's] charitable activities", organisers said.
'Heartbreaking' cancellation
The Devon County Agricultural Association (DCAA), which stages the show, said it was making the offer to more than 800 trade stallholders.
Secretary Ollie Allen said stalls had cost £15 per square metre, plus VAT, with the smallest space available being 6m by 6m (20ft by 20ft).
The association would also be offering them "the option of donating the refundable proportion of the fee in support of its charitable activities".
The DCAA's charity work includes promotion of food and farming, educational projects with local schools, farming awards and student bursaries, it said.
All claims must be received by the end of June and would be processed by the end of July, the DCAA said.
Organisers described the cancellation of displays on Saturday 24 May on 23 May - the first in the show's 119-year history - as "heartbreaking".
They said rain which caused fields used as car parks at Westpoint, near Exeter, to become "quagmires" left them no choice.
Ticketholders have already been promised refunds.
Ms Allen said the show was faced losing more than £500,000 as a result of the cancellation.