Bantham estate in Devon bought by family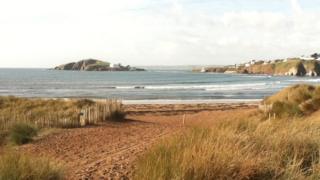 The sale of a 750-acre (303 hectare) seaside estate in south Devon has been agreed, agents have said.
Bantham, which includes the beach, estuary and about 20 cottages in the village, has been sold to a "family who will continue to manage and conserve the estate", said Strutt and Parker.
The National Trust, which was hoping to buy part of the the estate, said it was "extremely disappointed".
Agents said the unnamed cash buyer exceeded the asking price of £11m.
The estate has been in the same family for about 100 years.
James Baker, of Strutt and Parker Exeter, said the buyers were "in for the long term".
He said: "It's a wonderful part of the world and they want to preserve it."
There have been concerns that tenants in the cottages would be removed, but Mr Baker said: "That's not going to happen."
"They are a really nice family and everyone will be happy," he said.
"We received a lot of offers and it was a very difficult decision to make but we feel we have made the right decision.
"The vendors are quite excited to choose what they believe is the right buyer for the estate."
The sale could be finalised in the next four to six weeks.
"We were not expecting it to happen so quickly," said Mr Baker, who has been handling the sale since the estate was put on the market in May.
'Ends uncertainty'
Marine biologist Maya Plass, a tenant of the one of the cottages, said: "There is a general air of joy and really huge relief in the village.
"It's a beautiful area which has been made accessible to everyone and there is no reason why the new owners can't do it again.
"It should be fantastic. If it had gone to a big company the place would have lost its heart and soul."
Estate manager Ryan Hooper said: "It's a massive leap for us because it ends the uncertainty and everyone will be relieved that something is finally being done.
"The fact that the estate is going to be kept together is fantastic news."
The National Trust launched a £2.6m appeal in June to buy the beach, estuary and surrounding woodland, but not the cottages or farmland.
Supporters of the National Trust bid included local MP Dr Sarah Wollaston, who tweeted her disappointment.
Mark Harold, the trust's south west regional director, said it wanted to work with the new owners "to ensure that this beautiful location is continued to be enjoyed by the many thousands of people who have told us how much it means to them".