HMS Turbulent submarine crew hit by heat exhaustion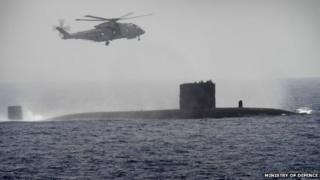 Crewmen on a Royal Navy nuclear submarine were overwhelmed by heat exhaustion after a failure on board, it has emerged.
Temperatures inside the submarine hit 60C after the air conditioning on HMS Turbulent was blocked, affecting 26 crewmen.
The incident in the Indian Ocean in 2011 has been revealed for the first time by the former commander.
The problem was traced to coolant inlet pipes which were blocked by barnacles.
Crew 'suffering'
The problem happened about three hours after the submarine with its crew of 130 had left Fujairah in the United Arab Emirates on 26 May 2011.
Former commander Ryan Ramsey, 44, from Plymstock in Devon, told the BBC: "In a very rapid amount of time the temperature on the submarine rose massively.
"The crew were suffering badly, I was really worried about my people.
"There were some amazing acts of heroism on board and people only survived thanks to the medic and his team."
While the crew tried to trace the cause of the problem, Mr Ramsey decided to dive to try to reduce the heat.
"I knew the water would be cooler the deeper we went, so we must be able to reduce the temperature in the submarine," said Mr Ramsey.
"Engineers found the solution pretty quickly and ended up blowing air through the cooling system which got rid of most of the crustaceans."
'No damage'
Twenty-four hours later the air conditioning had returned to normal.
Mr Ramsey said the Royal Navy had now incorporated the problem into its submarine training.
He served as commander of HMS Turbulent between 2008 and 2011 and left the Royal Navy in March after 25 years with the service.
HMS Turbulent was decommissioned in 2012 having reached the end of her Royal Navy career.
A Royal Navy spokesperson said the problem "caused no damage to the submarine or its reactor systems" and was resolved by the crew within a few hours.
The recommendations made following an investigation into the incident were implemented in full, they added.