Thieves steal 100 pregnant sheep from Cornwall farm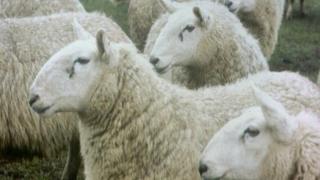 Thieves have stolen more than 100 pregnant ewes from a farm in Cornwall.
The farmer, Jeremy Hosking, said he believes the sheep were stolen in several raids from Fentongollan Farm near Tregon.
He said he had put his herd of 1,700 sheep out over winter in various locations in the area.
Mr Hosking said he only realised that 102 sheep had been stolen when they were brought back in for lambing and their tags were checked.
The method of taking the sheep in batches over several months was "a sophisticated and well thought out plan" he claimed.
The sheep were part of a three-year trial breeding programme aimed at producing an Aberdale hybrid sheep which are capable to producing more lambs at birth.
Mr Hosking said this made them particularly valuable.
Ian Johnson, from the National Farmers' Union, said: "Anyone buying stock or meat needs to check records very carefully and farmers should, whenever possible, make access to animals in fields as difficult as possible including locking gates.
"Any suspicious activity and vehicle movements should be reported to the police as should all actual thefts."