Suspected WW2 device found in Axminster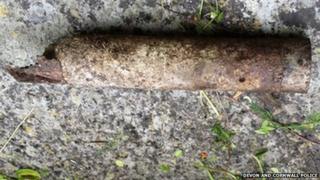 Bomb disposal experts were called to a house in Devon after the discovery of a suspected unexploded device from World War Two.
A 20m (66ft) cordon was put in place at Alexandra Road, Axminster and six properties were evacuated after a woman discovered the device in her garden.
The Royal Navy's Southern Diving Group was sent in to deal with the device.
The A358 was temporarily closed between the A35 and Musbury Road.
Householder Petra Bird said: "I was digging up bamboo and ivy and I just dug up this cylindrical metal thing ... and it had a bit of a tail to it.
"I thought, I don't really like the look of this and put it down very carefully."
She called the police who brought in the bomb disposal team.
"It's a bit of excitement. I'm just glad it hasn't gone pop," she said.
'Largely inert'
The Royal Navy said the 1kg (2.2lb), 12in by 2in (30cm by 5cm) device was taken away to be made safe.
It said it was an incendiary dropped on buildings in large numbers by warplanes, which was designed to set fire to property.
However, the explosive was largely inert and harmless because the detonator and fuse were missing.
A Navy spokesman said: "The householder did the right thing by calling police because, although this is mostly harmless, if it was set fire to then the explosive remaining could have been dangerous and caused injury.
"We always urge the public who find suspicious items they suspect might be bombs or flares or other ordnance, to call police and not to handle [them]."