Glasgow 2014: Queen's Baton visits Plymouth and Bristol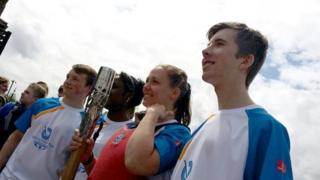 The Queen's Baton Relay has arrived in Bristol on its home nations tour as part of the countdown to Glasgow 2014.
The baton bearers will visit a variety of events and activities to introduce people to new sports.
They have been chosen in recognition of their contribution to sport and the community.
The Queen's Baton spent the morning in Plymouth where more than 100 schoolchildren turned out to greet it.
In Bristol, four local sporting heroes have been nominated to represent the city.
Dame Kelly Holmes, president of Commonwealth Games England, encouraged everyone in both cities to get involved.
"Our England baton bearers have all been selected due to their passion for sport and the way in which they share this with their communities and look to get people involved and active," she said.
"I'm encouraging everyone to get involved when the Queen's Baton Relay comes to your city."
Katie Bradley, 17, and Doaa Shayea, 15, carried the Queen's Baton at the Plymouth Life Centre, where they were joined by some of Plymouth's finest young athletes.
Andy Bradley, Katie's father said: "She put in for the Olympic torch and didn't get it so she was really chuffed to get the baton."
The coach of wheelchair racer Doaa Shayea, Keith Reed, said: "It's a fantastic honour but she deserves it. She is an inspiration to other athletes her age."
He added: "We discovered her playing wheelchair tennis, she's progressed really well. We are hoping for Olympics 2016."
James Gibson, 15, Peter Miles, 18, Rondene Vassell, 17 and Tracie Colbron, 32, will carry the baton in Bristol.
The group will be visiting Bristol's Millennium Square, Anchor Square and Lloyds Amphitheatre, where members of the public can celebrate the relay and try a range of different activities.
George Ferguson, mayor of Bristol, said: "These four young people can feel very proud.
"Their selection is an acknowledgement of their contribution to local sport and civic life and I'm sure it will be a day they will remember all their lives."