Torridge council launches strong alcohol curb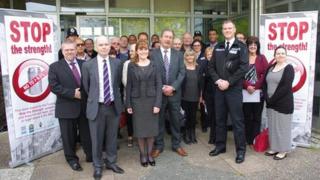 Scores of off-licences in the Torridge area of Devon are to stop selling high-strength beer and cider.
Torridge District Council said 90% of traders had pledged to stop selling lager and cider with an alcohol content above 6.5%.
Police say the move should help cut down on the problem of street drinking and disorder in the area's resorts.
Torridge and Public Health Devon hope the scheme will help to relieve the burden on the NHS.
Councillor Andrea Davis, chairman of Devon Health and Wellbeing Board, said: "Torridge is blazing the trail for the rest of Devon in adopting a common sense and very laudable approach to tackling some of the causes of problem and anti-social drinking."
Supermarkets Tesco, Co-op and Lidl have backed the campaign, along with independent retailers in the area.
Torridge council said the scheme would be monitored and reviewed in 12 months time.