Lympstone postman change causes village woe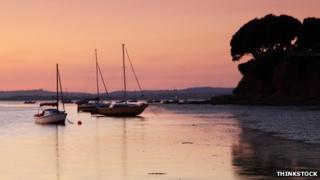 A postman who has worked in a Devon village for 17 years is to be moved on after the Royal Mail announced a colleague with longer service will be given the patch.
Ray Cope is to leave Lympstone due to a "selection of duties" policy for long-serving staff.
Residents have launched a campaign to retain Mr Cope, saying he has become "part of the village".
Royal Mail spokesman Mike Norman said "a quality service will be maintained".
Although the identity of the new postman is yet to be revealed, Mr Norman said the person had been with the company for 30 years.
Councillor Ben Ingham, who lives in the village, said the change was "not a very smart idea" and appeared to be "a fait accompli without discussion".
"It seems to brush aside any rapport between the postie and the people he supplies the mail to," he said.
It is understood Mr Cope, who has declined to comment, is to be relocated Littleham, Exmouth.
Posters supporting him have appeared in the village and several residents have written to Royal Mail.
Jennifer Mather, one of the residents leading the campaign, said: "Ray is overwhelmed and appreciative of all the support.
"It's the least we can do. The whole village is up in arms about this."
Royal Mail said it was taking a "standard selection of duties approach".
Mr Norman said: "It is always gratifying when our customers recognise the hard work of their postman or woman.
"We need to continually review our operation in the light of falling mail volumes and a change in what we deliver - fewer letters and more parcels.
"We can assure customers quality of service will be maintained."